Analysis of Technical Training Needs for the Pioneer Battalion of Brimob Polda Metro Jaya in The Context of Securing The National Capital
Keywords:
Analysis, Technical Training Needs, Brimob, Securing, The National Capital
Abstract
This research analyzes the technical training needs required by the Mobile Brigade Pioneer Battalion of Polda Metro Jaya in securing the National Capital City. Securing the National Capital is a complex challenge and requires high readiness and competence from the police, especially the Pioneer Battalion. In this research, the author uses a qualitative approach with the Training Need Analysis (TNA) analysis method, which involves questionnaires and a literature study. The results of the analysis show that the Pioneer Battalion is widely applied in various security tasks, which include handling high-intensity crime threats and managing natural disasters. The involvement of the Vanguard Battalion generally plays a role in supporting regional police when the intensity of the threat reaches a high escalation. Training uses a training manual published by the Foster Police Department. The research results show that there is still potential to improve training. In this analysis, the author emphasizes training based on actual needs for securing the National Capital, enhancing services to the community, and preparing to face future threats. In conclusion, this research identifies the importance of technical training in securing the National Capital by the Mobile Brigade Pioneer Battalion of Polda Metro Jaya. Based on the analysis, it is recommended to provide training that is not only related to the tasks and duties of the Pioneer Battalion in the context of securing the capital. Because the involvement of the pioneer battalion was extensive and not only related to security. The development and improvement of technical training that is relevant to the actual needs for security of the National Capital will strengthen the readiness and competence of Pioneer Battalion members in carrying out complex security tasks involving various other security aspects.
References
Alasqah, A. A., & Alshammari, H. H. (2022). TRAINING NEEDS ASSESSMENT OF SAUDI WOMEN WORKING IN TOURIST HOTELS, AN EMERGING FIELD IN THE KINGDOM OF SAUDI ARABIA. Academy of Strategic Management Journal, 21, 1–11.
Allen, N. D. F. (2018). Assessing a Decade of U.S. Military Strategy in Africa. Orbis, 62(4), 655–669. https://doi.org/10.1016/J.ORBIS.2018.08.011
Amalia, E., & Lorita, E. (2022). Analisis Evaluasi Pengembangan E-Government Di Dinas Komunikasi, Informatika Dan Statistik Provinsi Bengkulu. Professional: Jurnal Komunikasi Dan Administrasi Publik, 9(1), 83–90.
Blumberg, D. M., Papazoglou, K., Creighton, S., & Kaye, C. (2021). Incorporating psychological skills in police academy training. Police Psychology: New Trends in Forensic Psychological Science, 47–62. https://doi.org/10.1016/B978-0-12-816544-7.00003-6
Bressler, R. A., Raible, S., Lührs, M., Tier, R., Goebel, R., & Linden, D. E. (2023). No threat: Emotion regulation neurofeedback for police special forces recruits. Neuropsychologia, 190. https://doi.org/10.1016/J.NEUROPSYCHOLOGIA.2023.108699
Charlot, K. (2021). Negative energy balance during military training: The role of contextual limitations. Appetite, 164, 105263. https://doi.org/10.1016/J.APPET.2021.105263
Farish, M. (2015). Canons and wars: American military geography and the limits of disciplines. Journal of Historical Geography, 49, 39–48. https://doi.org/10.1016/J.JHG.2015.04.012
Fitrianto, A. (2021). DAMPAK MANAJEMEN TALENTA DALAM PEMBINAAN SDM POLRI TERHADAP EMPLOYEE ENGGAGEMENT DAN KINERJA ANGGOTA. Jurnal Kawruh Abiyasa, 1(2), 198–208.
Greene, J. (2007). International Encyclopedia of Police Science. New York: Routledge.
Gundran, C. P. D., Lam, H. Y., Tuazon, A. C. A., Cleofas, J. V., Garcia, F. B., & Puli, T. E. M. (2023). Simulation Training Needs Assessment for Disaster Preparedness and Disaster Response among selected agencies in National Capital Region, Philippines. International Journal of Disaster Risk Reduction, 94. https://doi.org/10.1016/J.IJDRR.2023.103824
Gyeltshen, K., Kamnuansilpa, P., Crumpton, C. D., & Wongthanavasu, S. (2021). Training needs assessment of the Royal Bhutan Police. Police Practice and Research, 22(1), 409–425.
ICLEI. (2017). City Profile: National Capital Region of Jakarta (Indonesia).
Kraas, F., Hackenbroch, K., Sterly, H., Heintzenberg, J., Herrle, P., & Kreibich, V. (2019). Mega Cities-Mega Challenge.
Larsen, O. H., Ngo, H. Q., & Le-Khac, N.-A. (2023). A quantitative study of the law enforcement in using open source intelligence techniques through undergraduate practical training. Forensic Science International: Digital Investigation, 47, 301622. https://doi.org/10.1016/J.FSIDI.2023.301622
Lubis, I. N., Yamin, M., & Akhyar, A. (2022). Penerapan Peraturan Kapolri Nomor 6 Tahun 2019 Tentang Penyidikan Tindak Pidana Terhadap Proses Penegakan Hukum (Studi Penelitian di Polsek Medan Area). Jurnal Hukum Al-Hikmah: Media Komunikasi Dan Informasi Hukum Dan Masyarakat, 3(2), 495–506.
Martin, R. H. (2020). A Framework of US Contemporary Police Training: Select Types of Basic Training and Purpose of Field, Inservice, and Specialized Training. Journal of Education and Training Studies, 8(7), 1–9.
Maulana, A., Rosyidi, M. I., Koesfardani, C. F. P. P., Hidayah, S. A., & Amory, I. D. G. R. A. (2021). Potensi dampak Airbnb terhadap usaha penyediaan akomodasi di Provinsi DKI Jakarta. Jurnal Ekonomi Dan Pembangunan, 29(1), 59–80.
McConnell, J. H. (2003). How to identify your organization's training needs: A practical guide to needs analysis. PublicAffairs.
Mehari, K. R., Rodgers, C. R. R., Blanton, M. A., & Turner, L. A. (2021). Evaluation of a police training on de-escalation with trauma-exposed youth. International Journal of Law, Crime and Justice, 66. https://doi.org/10.1016/J.IJLCJ.2021.100491
Mogea, T. (2023). The Importance of Human Resources Training to Improve Organizational Performance. CENDEKIA: Jurnal Ilmu Sosial, Bahasa Dan Pendidikan, 3(2), 58–72.
Nordgren, J., Richert, T., & Stallwitz, A. (2022). Police officers' attitudes and practices toward harm reduction services in Sweden – a qualitative study. International Journal of Drug Policy, 104. https://doi.org/10.1016/J.DRUGPO.2022.103672
Pérez, A. V., Gámez, M. R., Briones, V. F. V., Viteri, C. G. V., & Molina, L. A. V. (2018). Sustainable development seen from environmental training in university linkage. International Journal of Life Sciences, 2(1), 12–20.
Raditya, B. C. (2023). Juridical Review Regarding Transfer of The Right to Occupate Service House of Police. Asian Journal of Engineering, Social and Health, 2(2), 91–106. https://doi.org/10.46799/ajesh.v2i2.38
Sarkar, G., & Shukla, S. K. (2023). Behavioral analysis of cybercrime: Paving the way for effective policing strategies. Journal of Economic Criminology, 2, 100034. https://doi.org/10.1016/J.JECONC.2023.100034
Satrya, W. F., Aprilliyani, R., & Yossy, E. H. (2022). Sentiment analysis of Indonesian police chief using multi-level ensemble model. Procedia Computer Science, 216, 620–629. https://doi.org/10.1016/J.PROCS.2022.12.177
Satrya, W. F., Aprilliyani, R., & Yossy, E. H. (2023). Sentiment analysis of Indonesian police chief using multi-level ensemble model. Procedia Computer Science, 216, 620–629. https://doi.org/10.1016/J.PROCS.2022.12.177
Timonora, S., & Ariyanto, W. (2022). Training of Indonesian National Police Pilots to Improve Competence, Professionalism and Aviation Safety. KnE Social Sciences, 354–369.
Udrea, C. (2014). Pedagogical Strategies for Continuous Training in the Police System. Procedia - Social and Behavioral Sciences, 142, 597–602. https://doi.org/10.1016/J.SBSPRO.2014.07.672
Wijatmoko, E., Armawi, A., & Fathani, T. F. (2023). Legal effectiveness in promoting development policies: A case study of North Aceh Indonesia. Heliyon, 9(11). https://doi.org/10.1016/J.HELIYON.2023.E21280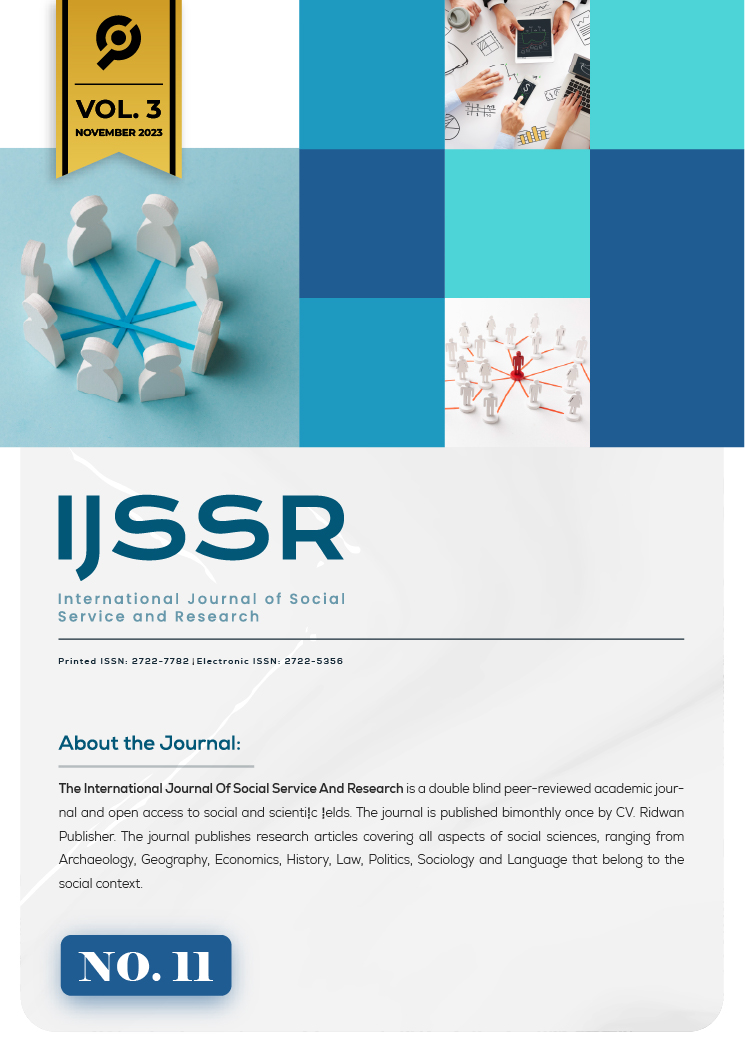 License
Copyright (c) 2023 Tabrani , Basir, Riska Sri Handayani
This work is licensed under a Creative Commons Attribution-ShareAlike 4.0 International License.
Authors who publish with this journal agree to the following terms:
Authors retain copyright and grant the journal right of first publication with the work simultaneously licensed under a Creative Commons Attribution-ShareAlike 4.0 International. that allows others to share the work with an acknowledgement of the work's authorship and initial publication in this journal.
Authors are able to enter into separate, additional contractual arrangements for the non-exclusive distribution of the journal's published version of the work (e.g., post it to an institutional repository or publish it in a book), with an acknowledgement of its initial publication in this journal.
Authors are permitted and encouraged to post their work online (e.g., in institutional repositories or on their website) prior to and during the submission process, as it can lead to productive exchanges, as well as earlier and greater citation of published work.