CACI: The Contradiction Between the Nature and Practice of Modern Manggarai Society with Its Relevance to the Character Formation of the Millennial Generation
Keywords:
caci, character, modern, milenial generation
Abstract
Caci is one of folk game or war dances originating from Manggarai, Flores, East Nusa Tenggara. The existance and nature of Caci dance teaches the value of nasionalism, brotherhood, social interaction, rituals, resilience, courage, hospitality, tolerance and aesthetics. Nonetheless, nowadays the way milenials generation play it tend to display negative aspect compared to the internalization of Caci itself. In many cases, Caci showed more personal ego, anger, fights, grudges, hate speech (rants), and the aesthetic and entartaiment functions whis are applied in Lomes (dancing), Bokak (sound art in Nenggo and Danding), and Paci (symbolic expressions/metaphors to show the existance and quality of self) almost have no space. Caci has relevance to character formation functionality such as: the values ??of nationalism, patriotism, brotherhood, aesthetics, social interaction, rituals, toughness, courage, sacredness and manners. Caci becomes a place for the formation of people character if the act of caci is played in accordance with its essence.
References
Abdi, Muhammad Iwan. (2018). The implementation of character education in Kalimantan, Indonesia: Multi site studies. Dinamika Ilmu, 18(2), 305–321.
AK, Warul Walidin, & ZA, Tabrani. (2015). Metodologi penelitian kualitatif & grounded theory. FTK Ar-Raniry Press.
Aninda, Maria Paskalia, & Sihombing, Lambok Hermanto. (2022). THE VALUE OF FIGHTING DANCE TO AVOID CULTURAL VIOLENCE PERSPECTIVE: ON CACI OF THE MANGGARAI TRIBE. ISLLAC: Journal of Intensive Studies on Language, Literature, Art, and Culture, 6(1), 79–95.
Beckwith, Martha Warren. (1930). Mythology of the Oglala Dakota. The Journal of American Folklore, 43(170), 339–442.
Dalyono, Bambang, & Lestariningsih, Enny Dwi. (2016). Implementasi penguatan pendidikan karakter di sekolah. Bangun Rekaprima: Majalah Ilmiah Pengembangan Rekayasa, Sosial Dan Humaniora, 3(2, Oktober), 33–42.
Dearborn, Karen, & Ross, Rachael. (2006). Dance learning and the mirror: comparison study of dance phrase learning with and without mirrors. Journal of Dance Education, 6(4), 109–115.
Guntar, Elsita Lisnawati, Moon, Yuliana Jetia, & Edu, AmbrosLeonangung. (n.d.). NILAI HEROISME PADA TARIAN CACI MASYARAKAT MANGGARAI SEBAGAI REFLEKSI KARAKTER BANGSA.
Jampi, Hironimus, Nawir, Muhammad, & Hadisaputra, Hadisaputra. (2019). Nilai Kesenian Budaya Tarian Caci Pada Masyarakat Manggarai Kabupaten Manggarai Timur. Equilibrium: Jurnal Pendidikan, 7(2), 235–241.
Kartomi, Margaret. (2001). [Music culture of central, western and eastern Manggarai (western Flores). Series of two parts] Part 1: Music and ritual of pre-twentieth century origins in Manggarai, West Flores. RIMA: Review of Indonesian and Malaysian Affairs, 35(1), 79–136.
Müller-Schwarze, Nina K. (2015). The Arson of a Museum: Ethnography of historical experience and plant fiber use in northern Coclé Province, Panama. Ethnobotany Research and Applications, 14, 259–288.
Nahak, Hildgardis M. I. (2019). Upaya melestarikan budaya indonesia di era globalisasi. Jurnal Sosiologi Nusantara, 5(1), 65–76.
Nggoro, M. Adi. (2006). Budaya Manggarai Tengah Selayang Pandang. Ende, Flores: Nusa Indah.
Passos, Pedro, Milho, João, Fonseca, Sofia, Borges, João, Araújo, Duarte, & Davids, Keith. (2011). Interpersonal distance regulates functional grouping tendencies of agents in team sports. Journal of Motor Behavior, 43(2), 155–163.
Subianto, Jito. (2013). Peran keluarga, sekolah, dan masyarakat dalam pembentukan karakter berkualitas. Edukasia: Jurnal Penelitian Pendidikan Islam, 8(2).
Viartasiwi, N., Trihartono, A., & Hara, A. E. (2020). Unpacking Indonesia's cultural diplomacy: potentials and challenges. International Journal Sustainable Future for Human Security, 7(2), 23–31.
Widyawati, Fransiska, & Lon, Yohanes Servatius. (2022). LOCAL CULTURE EDUCATION IN MANGGARAI. Jurnal Pendidikan Dan Kebudayaan Missio, 14(2), 165–177.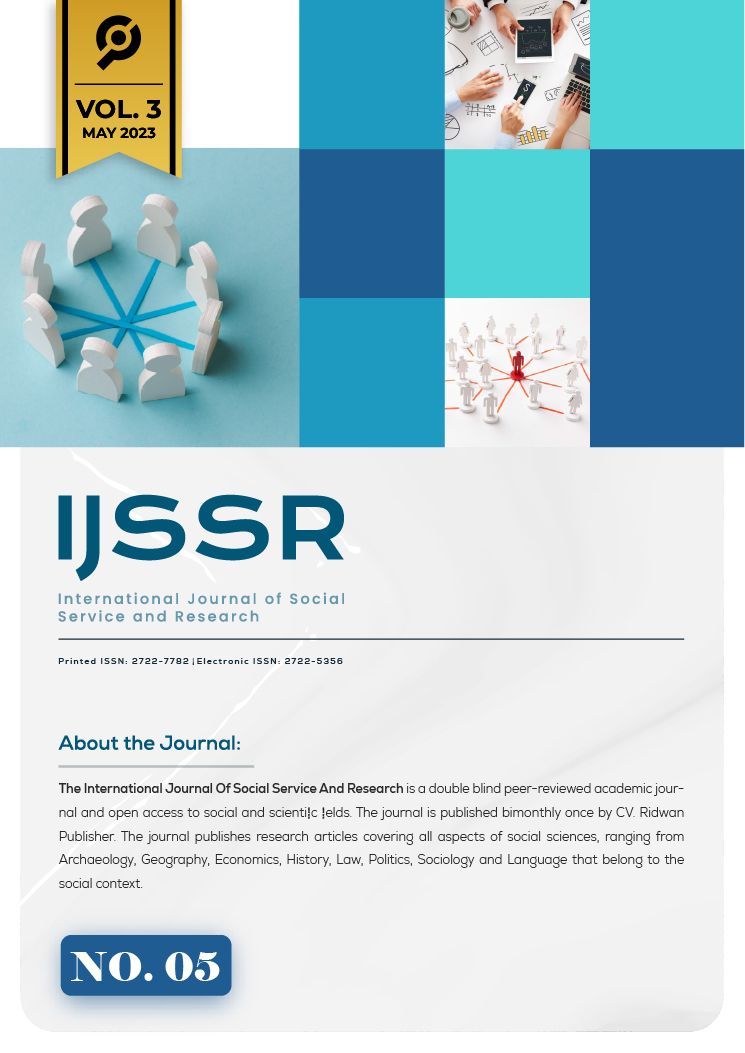 License
Copyright (c) 2023 Marselus Natar, Maria Yulita C. Age
This work is licensed under a Creative Commons Attribution-ShareAlike 4.0 International License.
Authors who publish with this journal agree to the following terms:
Authors retain copyright and grant the journal right of first publication with the work simultaneously licensed under a Creative Commons Attribution-ShareAlike 4.0 International. that allows others to share the work with an acknowledgement of the work's authorship and initial publication in this journal.
Authors are able to enter into separate, additional contractual arrangements for the non-exclusive distribution of the journal's published version of the work (e.g., post it to an institutional repository or publish it in a book), with an acknowledgement of its initial publication in this journal.
Authors are permitted and encouraged to post their work online (e.g., in institutional repositories or on their website) prior to and during the submission process, as it can lead to productive exchanges, as well as earlier and greater citation of published work.